Google map with Krabi and Aonang Beaches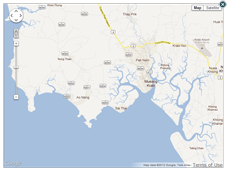 Click on the map to enlarge.
Krabi and Aonang Beaches
Krabi, Aonang and the surrounding area have some fantastic beaches to rival any, anywhere in the world. The beaches near to the hotels in Aonang are great, but if you like to get around a bit, you can find other beaches that are even better. Some will be completely deserted others will be more busy, some are great swimming beaches whereas others are just perfect places to wander, splash around, pick up shells and purely enjoy some of the most fantastic scenery to be found anywhere.