Google map with Krabi and Aonang Restaurants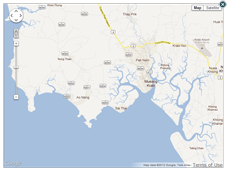 Click on the map to enlarge.
Krabi and Aonang Restaurants and Street Food
Everyone has to eat!
Krabitrek are always searching for the best restaurants and food options in Krabi. The places listed here are a complete cross section of everything that there is to offer, from high class restaurants to street kiosks selling fried chicken.
The best Thai food in Aonang and Krabi is not always found in the expensive restaurants, much of our favorite eating options are very resonably priced places that may not look like much, but really know how to cook food. Great Thai food is never far away, but you have to know where to look. You will see that many restaurants have the words Krua or Suan in them. Krua means Kitchen, Suan means Garden.
There are hundreds of other restaurants in Aonang, Krabi and all the beach areas and many of them will be good, this is just a selection of the places that we go to on a regular basis. We always go as normal customers and do pay our bills so we are in no way linked with the restaurants and are completely impartial. All photos are our own taken on our own visits usually with mobile phone, so not the greatest quality.