Google map with Krabi and Aonang Restaurants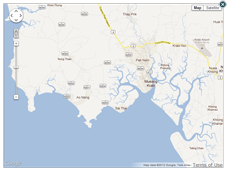 Click on the map to enlarge.
Krabi and Aonang Restaurants and Street Food
Everyone has to eat!
Krabitrek are always searching for the best restaurants and food options in Krabi. The places listed here are a complete cross section of everything that there is to offer, from high class restaurants to street kiosks selling fried chicken.
The best Thai food in Aonang and Krabi is not always found in the expensive restaurants, much of our favorite eating options are very resonably priced places that may not look like much, but really know how to cook food. Great Thai food is never far away, but you have to know where to look. You will see that many restaurants have the words Krua or Suan in them. Krua means Kitchen, Suan means Garden.
There are hundreds of other restaurants in Aonang, Krabi and all the beach areas and many of them will be good, this is just a selection of the places that we go to on a regular basis. We always go as normal customers and do pay our bills so we are in no way linked with the restaurants and are completely impartial. All photos are our own taken on our own visits usually with mobile phone, so not the greatest quality.
Nuis Tex-Mex
Nui's TexMex is unsurprisingly a mexican restaurant. Based in the center of Krabi, its not the most fancy restaurant, but the food is great and reasonably priced.
The Mexican food on offer is the normal choice of taco's, fajitas, enchilada's and burritos but with a few fusion extras like mexican pizza and mixican lasagna.
The food is all freshly cooked and as well as being authentic, it really is delicious. Our kids love this restuarant and we visit at least once a month, enjoying the food and leaving filled to the brim.
Prices are very reasonable in the 150thb to 250thb price range. Alcoholic drinks are not sold in the restaurant, but you can always pop to the 7-11 over the road to buy and beer to enjoy with your meal.
The restaurant itself is quite small, with a dozen or so tables, but the place is really very clean and well kept. Being on the main road, the setting is not the most romantic, but, its difficult to beat for the quality of the food and value.
If you like Mexican food, you will love Nui's TexMex
Grid Ref: 8.0657682,98.9081827
Ruan Mai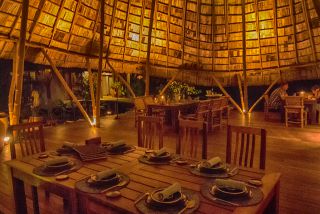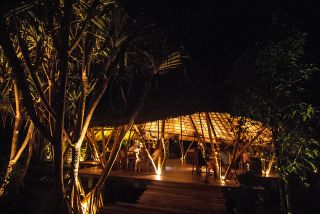 Ruan Mai used to be located in Krabi Town and had one of the best reputations in the province. They have now relocated to new premises just off the road between Krabi Town and Aonang.
The new location is pretty spectacular. They have created a real unique restaurant feel. The roof is a giant very artistic bamboo contruction which is as beautiful as it is fascinating.
The staff are very attentive and the full experience is as close as you will get to a high class European style restautant that you will find in Krabi. Even down to details of cutlery, tables and table wear, you will not be disappointed.
The food is even better than it was, its authentic but also has its own style to it. The restaurent mostly serves Thai customers, so, for sure, if you like spicy, thats how it will come, if you are not such a chilli fan, then you can always ask for it to be toned down a touch.
It is expensive by Krabi comparisons. The food though is very reasonably priced though considering the quality and the setting. Drinks prices are a little high, but no more than you expect. A main dish of Thai Green curry or a spicy prawn salad is about 160thb per dish.
If you want to treat yourself and like real Thai food, then its well worth it.
Grid Ref: 8.087996, 98.881958
Saitai Kanom Jean Shop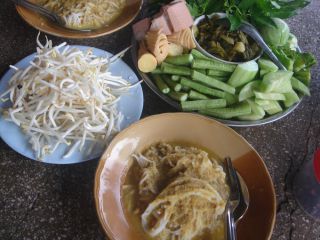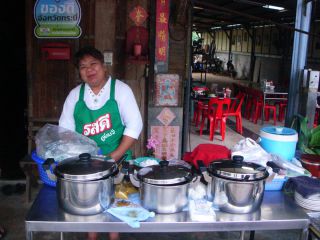 Kanom Jean is actually a thin white rice noodle that is served with salad and a choice of sauces. It can be eaten at any time of day but at this shop, they open in the early morning and remain open until they are sold out, generally this is at about midday.
The restaurant is not exactly glamorous, right by the side of the main road and just ten or twelve tables, but, it is exceptional.
The sauces come in three varieties, there is a non spicy peanut based sauce, a yellow slightly spicy, fish based sauce and, for the hardcore, a much spicier version.
Many other restaurants also sell this dish, but this is from our own opinion, the best that there is. It may not be everyones choice for breakfast, but we would really recommend trying it.
They also offer bbq'd pork and the stall next door will serve you with fried chicken to your table (and the fried chicken is also very good).
My four year old daughter, five year old son and English husband love this place as much as I do and we visit at least once a week.
The typical price for for all four of us to eat, including noodles, sauce, chicken, pork and salad and beansprouts is less than 150 thb (yes, for all four of us). So, even if it is not to your taste, you just have to try.
The location is about 200 metres on the Krabi side of the PTT station on the main road between Aonang and Krabi (the same side of the road as the PTT petrol station, there is a green awning at the front and generally a mass of cars and motorbikes parked in front.
Grid Ref: 8.080821, 98.858025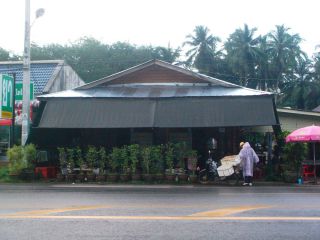 Ruan Ancharee - Krabi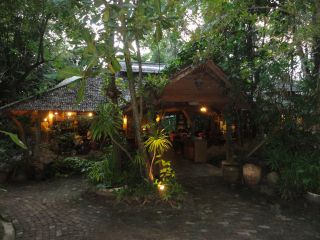 Ruan Ancharee is located where the very popular Ruan Mai used to be in the center of Krabi Town. The restaurant seems to have continnued with the good level of food and service that Ruan Mai was well known for. Ruan Mai has now moved, see on this page to find its new location.
The restaurant under new management is still very good. The food is very good, service is very good and the atmosphere and ambience have actually improved every time we have been.
Being so good means that it can be busy and without a reservation, you may have to wait quite a while for a table. Lunchtimes particularly, the restaurant is very full with large Thai tour groups so you may have to wait a while for your food.
It's not the cheapest, but then you wouldn't expect it to be, but, our normal bill for two adults and two children is generally about the 1500thb level, so, its still very reasonable considering the quality.
One starter that is a real must is the roasted cashew nut with cut lemon and chillie, I know this should be a really easy thing to do yourself, but whenever I have tried to make it myself, there always seems to be something missing.
We always have a fried fish here generally with the garlic and pepper sauce and have always enjoyed it.
Telephone: 075 631 797
Grid Ref: 8.0771472757066, 98.908503116644
Frog and Catfish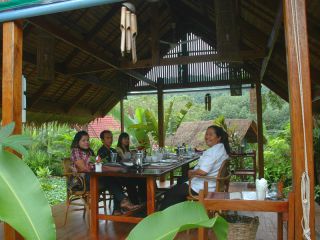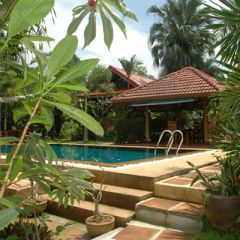 The Frog and Catfish is a little out of the way, but once you get there it really is a home from home. Run by Gary (English) and Bua (Thai) the place is a blend of the two. There are elements that are undoubtably Thai, like the gardens and design of the Sala, but at the same time, there are elements that are unequivocally english (I mean even the name, the Frog and Catfish could be the name of a pub in East London.
But wherever the mix comes from, its a good one, they are both incredibly welcoming from the monet you arrive and will go out of their way to make you comfortable.
The menu is mainly Thai but with a small but good selection of Western food for those days when really nothing other than a Steak and Kidney pudding will hit the spot.
There is a swimming pool that any customers can use and a small number of bungalows if you just cannot tear yourself away.
The location is a good 15 km away from Aonang and is a little out of the way, but this just adds to the charm.
Grid Ref: 8.1127653121948242,98.780181884765625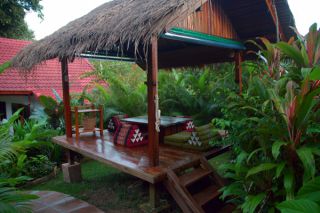 Boat Noodles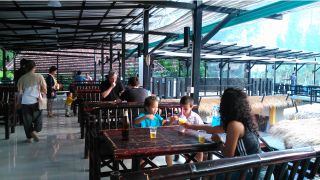 Boat Noodles is back!
They are in the same location but with a new restarant. There is a large seating area upstairs and a good choice of reasonably priced meals. Most main dishes are about 60thb. (some drinks are a bit expensive though).
Boat Noodles is quite a simple Thai restaurant offering the normal range of Thai food from Phad Thai to noodle soup. The noodle soup is what we go there for, its not anything very special, but when in the mood for noodle soup, you can always rely on this one. The staff are friendly, the place is spacious and comfortable upstairs with a nice breeze flowing through.
To find it, walk up the main road away from the beach on the right hand side. Its probably about 800 metres away from the beach with a 7-11 convenience store right next door. The restaurant has a counter at ground floor with a couple of bamboo salas outside, but a nice large new seating area upstairs.
Grid Ref: 8.034482, 98.829342
Sphagetti House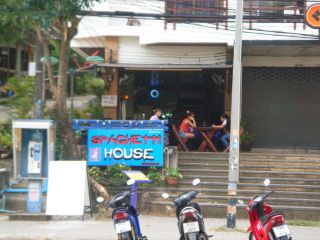 The Sphagetti house, as the name suggests is all Italian. They serve all pasta dishes, pizzas and a good range of other Italian food.
The taste is authentic and very nice. Comes highly recommended.
To get there, go along the main Aonang Road away from the beach for about 1km, you'll see it on the left hand side in the same block as the SCB bank.
Grid Ref: 8.033970, 98.828047
Wong Sai Seafood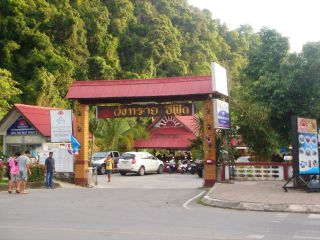 Wong Sai Seafood is one of the longest serving restaurants in Aonang and has always been very popular.
Its the location that is its strongest point, just at the very beginning of Noperatara beach, so, we tend to only visit for a drink and a few snacks to watch the sunset when we have family guests.
Grid Ref: 8.038406, 98.815995
Krua Tara
Krua Tara specialises in all seafood and really is one of the best seafood restaurants I have ever eaten in.
There are two Krua Thara restaurants, the original one (the picture below) is right next to the Nopperathara Pier, the second is a larger newer restaurant about 2km further up the road away from the pier. The menu selection for both restaurants and prices are the same. The newer larger restaurant tends to be used by some of the large tour groups so it can get a bit busy.
The food is always fresh and tastes great. Service is always very friendly.
Grid Ref: 8.047176, 98.800649
Ruan Thip 2
Right on the banks of a small river, the Ruan Thip 2 restaurant is perhaps one of the most pleasant places to spend an afternoon anywhere. The food is very good, but the atmosphere, next to the river is great. Its quite a large place with a large central area, that caters mainly for group tours, and then outside, lots of tables right next to the small river. Its a really beautiful jungle setting.
Ruan Thip 2 is sister to Ruan Thip 1 restaurent in Krabi Town, Ruan Thip is one of the longest established restaurants in Krabi Town and was always a favorite. Ruan Thip 2 means the same great food, but closer to Aonang and a much nicer setting.
Prices are reasonable, the menu has a great selection of Thai Food and Sea Food, including a few specialities, one of my favorites is the deep fried pork, it comes with mouth watering crispy skin and really tender, melt in your mouth meat.
I have never had to wait for a table as the Ruan Thip 2 restaurant, it is a little out of town so doesn't get hoards of people.
We even saw a group of otters playing on the bank of the small river on one occasion.
The restaurent is open from about 10am to about 10pm.
Grid Ref: 8.076307, 98.804273
Hilltop Restaurent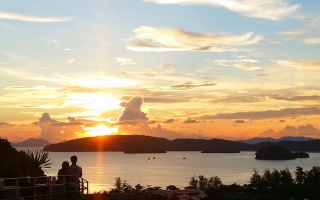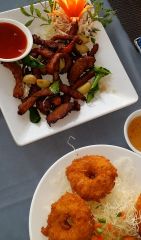 Hilltop Restaurant
The Hilltop, like its name suggest, is on top of a hill, it has an amazing view over Aonang Bay and is a perfect place to enjoy a beautiful sunset.
The menu is mostly Thai food made to an International taste, a perfect place to sample some Thai food without having to worry about it burning your mouth out with masses of chili. If you do want something spicy, then there are more authentic Thai restaurants, but the food at the Hlltop restaurant is nicely presented and tasty enough.
Price wise, its relatively expensive, but it really is a premium location so not more than you would expect. A starter will be about 150thb - 200thb and a main course between 250thb and 400thb per dish of curry or stir fried type food. Seafood is a bit more but still quite reasonable.
They have a good selection of wines and cocktails at normal restaurant prices, a large bottle of beer would be about 170thb.
The view though is really spectactular with a full 270 degree view over the beautiful Aonang Bay. On a nice sunset, it really is gorgeous and everyone is taking pictures.
You get to the restaurant by following the Aonang beach road towards Nopperathra beach, then half way the two beaches there is a right turn. You go along that road for about 200 meters and then will find the turn up the hill on the right. The entrance is about opposite the Pavillion Hotel. There is also LaiLay grill up the same road. There is parking at the top so you can take a motorbike or a car up, its quite a steep road so care should be taken. Unless you really want the excercise, you are probably not going to walk up to the restaurant, the road is really very steep!
The restaurant does get quite busy during high season, so it would be a good idea to make a reservation to get a nice table with the best views, your hotel should be able to help you.
Check with your hotel reception, its usually possible to get them to make a reservation and for the restaurant to pick you up from the hotel.
Grid Ref: 8.039906, 98.821897