Krabi for Kids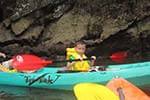 Coming to Krabi with kids? Krabi is a paradise for kids of all ages. Kayaking, Thai dancing, Muay Thai, Rock Climbing, or just simply a day on the beach. We have kids and know that the best way to give them (and you) a great holiday is to keep them busy.
We have a great selection of activities and tours for kids in Krabi.
update - We've just added the really special, "Elephant Trek with Elephant Bath" trip. We visited this last week and it got the highest rating of "AWESOME!!!" from our kids.
Thailand has a great attitude towards kids so you can be confidant that all tour guides will take special care of your precious ones.
The Krabi Islands are fantastic for kids. The Phi Phi Islands (speedboat only), 4 Islands and Hong islands trips (longtail boat or speedboat) are great. You can snorkel right off the beach and get to see lots and lots of small fish.
If you have younger children, it might be an idea to buy your own inflateable life jacket (like the one my son, Jak, is wearing in the picture above. These are inexpensive, light and can be carried around with you. Some of the tour companies do have a limited supply of children's life jackets but it never hurts to have a backup just in case. These inflateable jackets can also come in useful on the beach just to give you peace of mind when the kids are playing. The jackets can be purchased at many of the shops on the Aonang beach front road for about 300thb.
For a really special family trip, take a charter longtail boat to Hong Islands or the 4 Islands. Kids just love having their own boat, they have the freedom to move around the boat, get sprayed, and there is no waiting around, just arrive at the beach and jump off into this glorious sea. They can pretend to be pirates, explorers, scientists, whatever their imaginations can create. It will give them a love of travelling that will stay with them forever.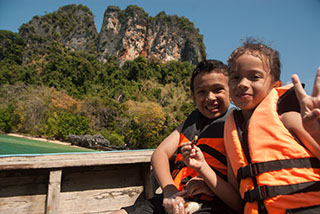 If muay thai (thai boxing) is something your kids would like, then there are several schools in Krabi who have teachers who are very good at giving kids a few starter lessons, and if you have several kids, then beating up a punch bag is far better than beating up each other. And... there is the added benefit that they will for sure be exhausted early giving you some extra peace in the evening.
For kids with lots of energy, a trip to Tiger Cave Temple is fun, walking up 1237 steps and seeing the monkeys keeps them busy. Do be careful coming down though, some of the step sections are quite steep but the handrail is good so just ensure that they hold on at all times. Even if you don't make it all the way to the top, there are still some truly amazing views along the way.
A trip to Krabi with kids should also involve an elephant ride. Just being close to an elephant is a real eye opener. Babies seem to love the feel of elephant skin and the elephants are incredibly gentle. Riding on an elephant can be a bit scary for kids 2 and under just because of the height but any kids older than this will almost certainly love it. For many people, an elephant trek is actually one of the highlights of a holiday in Krabi, its also a fantastic way to see the Krabi countryside. If you want something really special, then the Elephant Trek and bathing with Elephants is a really great one. Its the closest you can get to an elephant, even get to give it a tummy tickle and a back scrub, sit on the elephants shoulders and get a trunk shower!. Check it out here.
If there are any questions that you have about any other activities for kids in Krabi, then please don't hesitate to ask.
Most kids love to climb and a half day session of rock climbing at Railay Beach is something that they will love. The climbing routes are very well maintained and the instructors are very experienced. Its all top rope climbing so its as safe as rock climbing can be with harnesses and helmets to fit all ages. You'll be really surprised at just how good kids are. Its also a big confidence builder for any kids who might be a bit nervous about heights.
Kayaking is another activity that kids really seem to enjoy. Being right on the water and being able to dip your fingers in is just one of those life pleasures that shouldn't be missed. The wildlife around and the sight of the mangroves, the monkeys, birds, lizards and insects is a great close-to-nature experience.
For slightly older kids, the white water rafting is a really exciting trip, they may have experienced some fairground rides, but rafting in full nature is really hard to beat. Its suitable for kids from about 7 years and up. Then, for teenagers, some ATV riding and go-kart driving is a great way to spend some time.
Tours that might be suitable include:
(We advise that you make sure that you provide appropriate supervision at all times. Please be sure to make sure that even on the beach, you know where they are at all times.)
If at any time you need any medical attention for your kids, then please check out our contacts listing. There you will find a list of doctors and medical facilities. There is also a new International standard hospital in Krabi Town now. This hospital is modern and very well equipped.