Things to do on a rainy day in Krabi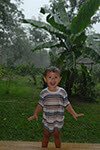 Krabi is right in the middle of the monsoon zone so it should come as no surprise that it does get quite a bit of rain. On bad days, boat trips out to the Islands can be cancelled. But there are still lots of things that can be done on a rainy day in Krabi.
ATV and Rafting - for ATV, mud can make it even more fun, and on a white water raft run you're going to get wet anyway.
Kayak - The kayak trips are amazing even with a bit of rain. The wildlife comes out when it rains.
Cooking - take a cooking course and learn a skill that you can take back home.
Shopping - There are a few places in Krabi Town, Vogue shopping center where they sell branded clothing, Outlet Mall where you can buy discounted brand name sports and clothing, Tesco which has its own mall selling computers, clothes, telephones etc. They are all air conditioned so not a bad place to go on a hot wet afternoon. Tesco does also have a cinema, but most films are in Thai language.
The Thai style is to just simply relax when it rains, take the time as an opportunity to sit and enjoy a coffee and watch the world go by or catch up on a bit of sleep. The rain will stop and the sun will come out, its only a matter of time.