9 Stop Sunset Island Hopping Tour by Longtail Boat
This trip visits all the same places as the normal 4 Island tour but also stops at a few extra places.
The Islands are all uninhabited Islands with no hotels, resorts or restaurants.
Starting at 11:00am, the places visited are:
1. Tanming Island - a small Island close to Poda Island, here can enjoy some swimming and snorkelling.
2. Poda Island - The largest island in the group but with really beautiful white soft sand beach. You can just relax or snorkel just off the beach.
3. Phu Ya Bay - A less visited beach on the other side of Poda Island for swimming and relaxing on the beach.
4. Tup Island - This is a small Island which is connected to Mawr and Chicken Islands by the famous Talay Wak sandbar.
5. Chicken Island - Just across from Tup Island, and named after its distinctive shape that really does look like a chicken!
6. Hin harn Bay - A swimming and snorkelling stop off one off the rock Islands.
7. Pranang Cave - This is part of the mainland just around the corner from Railay Beach, The beach has high rock cliffs behind that are famous for rock climbing and a cave with lots of 'interesting' offerings left by the traditional sea gypsies and used to pray for fertility.
8. Railay East Beach - The less visited beach at Railay, has some great cliffs which are used by the climbing schools. The beach is very shallow and a bit muddy at low tide, but has interesting mangrove nature.
9. Railay West Beach - Voted as one of the finest beaches in the whole of Asia, its a really beautiful place to enjoy the sunset. There are bars and restaurants lining the beach so you can grab a sundowner, sit down and relax and watch nature at its finest.
The Islands are all quite close to Aonang and the boat trip from the departure point to the first stop is only about 15 - 20 minutes. The boat is a large longtail boat with seating for up to 30 passengers. The seating is bench seating and there is a sun/rain cover over all the seating area.
Lunch is a packed lunch of sandwhiches and some seasonal fruit and is usually at Poda Beach at about 1:00pm although the itinerary can vary slightly depending on tides and the weather conditions. (Please inform us if you have any special food requirements or allergies) Lunch is Halal.
Pregnant ladies are not able to go on this trip as there is no Insurance cover for pregnant ladies.
Please treat the Islands with respect, do not feed the fish and take all litter with you. We want to keep the Islands in their natural state for future generations.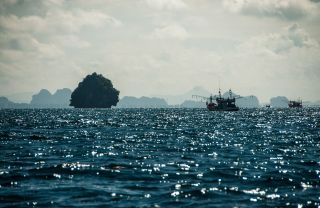 Tour Enquiries
Tour Prices
1200.00
600.00
0.00
0.00
0.00
0.00
0.00
0.00
0.00
0.00
0.00
0.00
| | | |
| --- | --- | --- |
| 9 Stop Island tour with Sunset at Railay Beach | 1200.00 | 600.00 |
Includes

Price includes hotel pickup and return, all transport, mask and snorkel, life jacket, insurance and lunch.
(Pickup from Hotels and resorts in Klong Muang area there is a 100thb per person surcharge)
Price does NOT include National Park fees of 400thb per adult, 200thb per child. Please remember to bring this amount of cash with you in Thai Baht. It is not possible to take this trip without paying the National Park fees.
Itinerary
Pickup from Krabi Town, Klong Muang and Aonang resorts and Hotels is included in the price.
Krabi Town and Klong Muang, pickup at about 10:30am
Aonang - pickup at about 10:45am
Please note that pickup times are approximate as it depends on the location of all guests. Please be waiting in your hotel lobby at the above times but be prepared to wait for up to about 30 minutes.
Please Note that the order of stops may change depending on sea and weather conditions.
The guides on all tours in Krabi are really there to assist and organize, they are not really guides in the more common use of the word in that they do not provide a commentary or information about the places visited.
| 00:00am | 00:30am | 01:30am | 02:30am | 03:30am | 04:30am | 05:30am | 06:30am | 07:30am | 08:30am | 09:30am | 10:30am | 11:30am | 12:30pm | 13:30pm | 14:30pm | 15:30pm | 16:30pm | 17:30pm | 18:30pm | 19:30pm | 20:30pm | 21:30pm | 22:30pm |
| --- | --- | --- | --- | --- | --- | --- | --- | --- | --- | --- | --- | --- | --- | --- | --- | --- | --- | --- | --- | --- | --- | --- | --- |
| 2.80 | 3.10 | 3.30 | 3.20 | 2.80 | 2.20 | 1.70 | 1.20 | 1.00 | 1.10 | 1.40 | 1.90 | 2.50 | 2.80 | 3.00 | 3.10 | 2.90 | 2.50 | 2.00 | 1.60 | 1.30 | 1.30 | 1.60 | 2.00 |