Food and Restaurants in Krabi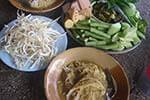 The world has had a love affair with Thai food for many years now, and Krabi enjoys some of the best of it.
We've recently visited Ruan Mai, the Khanom Jean shop and the Frog and Catfish. All very enjoyable but in very different styles. Another great restuarant is Suan Kluey Mai, a lovely place by a small river, kids can even go for a cooling dip.
Check out our Krabi Restaurants page. Or, why not take a Thai cooking class and learn to make delicious Thai food yourself. Have a look at our Thai cooking courses.
Depending on your taste, it's quite often very ordinary looking places where you will find the best that there is to offer. Krabi has Seafood restaurants, noodle shops, sweets, fruit and deserts, we have spent years finding the best food in Krabi and Aonang and are happy to be able to share our knowledge.
Any of the Krabi or Aonang tours that we offer that include lunch, all options are Halal and vegetarian is available on request. Please just let us know when you book and make sure that we have written it on the booking confirmation.