Krabi Activities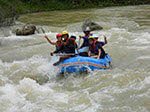 There are many places in the world where you can rock-climb, cycle, snorkel, kayak, ride ATV's, elephants, horses or go-karts, but, and it's a big but, there is nowhere in the world where you can do these things against a backdrop quite like Krabi.
There are also many attractions that you can view on our Krabi Attractions Page.
Take advantage of the rainy season to get to see Krabi without any crowds!
The magnificent unique Karsts dominate everything and make every moment simply more special and memorable. Whereas most tourist destinations boast a few viewpoints or beauty spots, you'll find them in Krabi around every corner. Krabi is still real countryside and it only takes 15 minutes at the most to walk or ride a rented motorbike from even the busiest spots to completely unspoiled countryside and beach.
It's not only the landscape that makes Krabi a special place though, the perfectly warm and clear Andaman sea with its clear warm water and pristine marine life and the mangrove forests swarming with incredible wildlife would be enough on their own to make Krabi a special place.
The people are special too. Tourism is still quite a small thing in Krabi and most people are involved in non-tourist work, there's a very big rubber tree and palm oil business in Krabi. This means that most of the people you see (outside of the central tourist hotel areas) are just genuine friendly local people.
Snorkeling and Scuba
If you are into trying out some more active pursuits then try snorkeling and scuba diving. You can take boats out to the Islands and enjoy both fantastic beaches and snorkel right off the beach. Or if you want to try scuba diving, Aonang and Krabi can offer you a chance to sample some of the world's most spectacular dive sites, some even specialize in underwater photography.
The Best places for snorkelling in the area are the Phi Phi Islands, the 4 Islands and the Hong Islands. Group tours and private boat charters are available.
---
Climbing
If Rock Climbing is more your thing then, with the made-for-the-job limestone cliff faces, Railay, just next to Aonang has been a mecca for rock climbers for at least two decades. There are many climbing schools offering everything from beginner's climbing courses for kids right up to specialist private guides who can show really experienced experts the best routes. What makes it all so amazing is that all this takes place right off the beach and the higher you go, the more spectacular the view becomes.
If you're a real adrenalin junkie, and rock climbing sounds a little safe and well, tame, then try deep water solo. This is a truly crazy sport that entails climbing as high as you can up a sheer cliff face and then simply,jumping! Fortunately, the locations are carefully chosen for having landing spots of deep water, but even water from ten metres high can feel pretty hard if you don't get it just right. Amazingly though, it's very safe and although in the past it has attracted the most serious risk taking thrill seekers, I have yet to hear of any injury more serious than a bad case of belly flop.
Not quite rock climbing, but just as exhilarating, there is the tree-top experience at PhangNa. Here you can enjoy swinging like gibbons between the towering trees. If you're not scared of heights then this is incredible fun for a couple of hours, if you have teenage kids with lots of energy, then this might be the thing to do.
---
Kayaking
Then there is Kayaking; the mangrove forests that line much of the Krabi coast are the perfect place to explore by kayak. The unique eco-system of these forests with the incredible tangles of roots allow you to get right into the forest in a way that just isn't possible elsewhere. It's fascinating with the steep cliffs, caves, hidden lagoons and wildlife and yet it's really relaxing at the same time. There are two main Kayaking areas; Thalane Bay and Bor Thor. Thalane Bay is a coastal stretch with dozens of small channels that weave their way through the mangrove forests. The experience is different at high and low tides with high tide giving more access to the depths of the forest and some hidden lagoons and caves, while at low tide you get to see the incredible root structures that make the mangroves such a unique ecosystem. Bor Thor is an inland mangrove system a little further North from Krabi, here you get to kayak through caves with ancient cave drawings, at low tide you can even kayak right through a pitch black channel right under one of the massive mountains.
---
Cycling
Cycling has also been through a burst of popularity in Krabi. The road system is now really very good with new tarmac allowing a smooth safe ride. You will often see a bunch of ten or 15 Thais all on mountain bikes or road bikes cruising in the shadow of the Karsts dressed, of course, in the cyclists lycra and mirror shades. If you look closely though, the majority are not young fit sporty types but middle aged men and women getting a bit of exercise after work. The roads between the mountains are actually really quite flat making cycling long distances a breeze. We can arrange cycle trips to some of Krabi's attractions.
You can rent a bicycle at some of the hotels and resorts in Aonang and Krabi Town, there are also some organised day trips available.
---
Rafting
For a dose of adrenalin, you could try white water rafting. Quite possibly the best rafting experience in Asia, the location at Phang Na is an old tin mine right up in the mountains. The river you raft down was originally the shoot that was used to bring water down from a reservoir at the top to clean the tin-ore. As the release of the water is carefully controlled, it makes the ride very safe but non-the-less exciting as the expert guides know every twist and turn and how to get the maximum fun out of the experience.
ATV
While you are there, try out ATV riding. The tracks pass through river beds, steep muddy tracks and rocky outcrops, it's a totally absorbing experience and all the time, surrounded by some of the most amazing scenery in the world. The more muddy it is, the more fun, so this is one activity that you can enjoy in anything but the heaviest of storms.
---
Horse Riding
Always wanted to gallop on a horse along a tropical beach kicking up the shallow warm water? Now's your chance. At Ao Namao beach, you can go for a day or just an hour. You can ride the horses right along the beach all the way to the Shell Fossil beach with its pre-historic slabs of fossilized shells.
---
Elephant Treking
If all this activity sounds a bit exhausting, then how about an Elephant trek though the palm and rubber plantations around Krabi. There are several elephant camps in the area but we only use three, one near Aonang, one at Phanom Bencha National Park and the other near Tiger Cave Temple. All these camps have very experienced trainers and well-loved elephants. It's an unforgettable experience just to get this close to an elephant. The ride itself could not be more sedate, with a slow rocking motion and the gentle rhythm of their heavy but delicate feet picking their way over the rough terrain, you'll understand why, until the modern era, Elephants were seen as the Rolls Royce of animal transport.
We have just added the option to take a bath with an elephant. The Trek is right on the edge of the National Park, but its the bathing part that makes this trip really special. Check out the full details here. You get right in there with the elephant who just love to have as good back scrub.