Things to do for Free in Krabi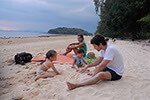 Its easy to have a great time in Krabi without breaking the budget. Krabi's natural beauty makes it a pleasure just to be here.
All the beaches are open to the public, so just cruising the coastline on a moped and finding all the beaches is fantastic way to spend the time.
Check out our Beaches Information page, or find them on our map.
If you enjoy photography, then there is an endless supply of perfect compositions just waiting for you. The best time of day is early evening, but even in the rain, you'll occasionally find yourself looking up a jaw droppingly beautiful view of the mountains appearing out of the cloud or a rainbow over the Sea.
Some of the sunsets in Krabi are just fantastic. The best places are the West facing beaches, Railay West, Klong Muang and Aonang.
If portraits are more your thing, then the markets are a great place to find great subjects, the morning market in Krabi town is a really great place to get an idea of normal life in Krabi.
Early morning just as the sun is rising is a great time to be here when its at its most busy. The mixture of smells of flowers, fruit, vegetables, snacks etc is a great combination. There is also a very nice dim sum restaurant just across the road where you can relax and just watch all the comings and goings.
Hiring a moped, while not free, is a cheap thing to do. Just 200thb and you get a cheap reliable vehicle for the day. Petrol is about 40thb per liter, and these things are economical. The road system is easy to understand, and while care should be taken at all times, the main roads are well surfaced and marked and even signposting is improving. You can also just cruise the back roads, some of which will turn into dirt roads winding through the rubber and palm plantations. Its great fun just riding around and finding places for yourself. Our map can help you work out some interesting places to go.
Walking is not something many people think of when they come to Krabi, but there are some really amazing places that can only be reached on foot. One walk, through the National Park past Tub Kaek beach leads you up right to the very top of the highest mountain in the region. The path is easy enough with a few steep sections, the path was in good condition last time I visisted a couple of months ago. The walk takes about 2 hours up and 2 down, but the view from the top makes it well worth it. (my 5 year old son and my friends 70 year old mother have both made it unaided to the top.) Do wear sensible footwear though and take some water.
Tiger Cave Temple is free for entry. At ground level there is a complex of temple buildings, some of which are really beautiful. There are also the caves after which the temple is named. But its the 1247 steps to the top which make Tiger Cave Temple really stand out. Its about an hour walk up, but the view is phenomenal.