The 4 Islands Vs The Hong Islands
Both sets of Islands are National Parks, they are both undeveloped and beautiful, both sets have clear water and soft sand beaches.
Which tour to take? There is no clear winner but here is some information to help you decide.
Hong Islands and 4 Islands comparison Chart
| | | |
| --- | --- | --- |
| | 4 Islands | Hong Islands |
| Snorkelling | Good | Good |
| Kayaking | No | Yes |
| Water clarity | Good | Good |
| Beach | Good | Good |
| Longtail boat travel time | 15 - 20 minutes | 35 - 45 minutes |
| Speedboat travel time | 10 minutes | 20 - 30 minutes |
| Toilets | Poda Island only | Hong Island only |
| Restaurants | No | No |
| Park Fee | Adult 400thb / Child 200thb | Adult 300thb / Child 200thb |
Please note that all times are approximate, sea conditions and tides can make it faster or slower.
Krabi's Islands
The Hong Islands and the 4 Islands are about the same distance off the coast, they are about equally sheltered and of similar size. In most ways they are very similar, they all have mountains, they all have nice beaches and they all have clear water with lots of fish. Throughout the year, they get about an equal number of visitors and at high season, both sets of Islands do get really quite busy. Which Islands are better? We keep on going back to them time and again and we still can't make up our minds :)
Photo Gallery of the 4 Islands (click to see more)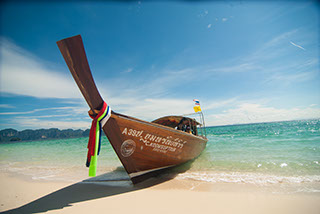 The 4 Islands
These are the Islands that are closest to the Aonang coastline. They are visible from Aonang beach and only take about 15 minutes by longtail boat or 10 minutes by speedboat.
Longtail and Speedboats have the same basic itinerary and stopping points on tours.

Chicken Island - It really does look like a chicken from some angles. The cliffs climb up to mountains straight from the beach making it a pretty awesome sight. At low tide, its connected to Tup Island and Mawr islands by a sandbar. You can get a great photo at just the moment the water rises over the sandbar that makes it look like you are walking on water. The best time to visit Chicken Island is at low tide. Most of the tours will adjust their itinerary to try and give you the best view. Obviously there are days when low tide just does not fit into the schedule, but even at high tide it's a really beautiful place. There is a nice beach with sheltered water that's good for snorkeling and seeing the hundreds of small fish.
Tup Island - This is a small but perfectly formed Island with a rocky, vegetation covered center surrounded by really beautiful beach. You can walk around the whole Island in about 20 minutes at low tide. At higher tides, its possible to snorkel around the Island.
Mawr Island - Mawr is the smallest of the three Islands that make up the Taley Whaek. There are no beaches, a few rocks can clamber about on and snorkel in the shallows.
Poda Island - Poda Island is the largest island of the group. On one side it's all rocks but along one whole length is a really nice beach. The tour boats all land at one end of the beach where there are some public toilets and a few food stalls. You can walk down the beach for about 20 minutes and even on crowded days you will usually find some beautiful spots with very few people around.
The Taley Whaek - This is the sandbar that connects Mawr, Tup and Chicken islands. Its only visible at low tide.

Other Islands
There are also a few very small rock Islands, Ko Khom, Ko Ba Ya Bon and a couple of others, they are really just rocks jutting out of the water. Some are named things like Sea Island by the tour companies. They do not have any beaches and are not possible to land at. A couple of the Islands do at certain times have good snorkeling spots around them. If water is rough it can be dangerous to snorkel too close to the cliffs. On private trips it's possible to ask the boat driver to stop at one of these rocks. They will advise on the safety of the conditions. The group trips do not visit any of the Islands although you will pass by them. Occasionally there are areas with large amounts of jellyfish which, while not dangerous, can make your skin tingle, if you are sensitive they can leave a bit of a rash. (We have never had a case of the more dangerous jellyfish stings at either the 4 islands or at the Hong Islands).
Also Part of the 4 Island tour

Phranang Beach - Pranang Beach is another beach just around the corner from Railey Beach. It has a great cave and is not developed. The group tours will stop here (some even call it an Island). The group longtail and speedboats tours we offer stop at Pranang for a swim and a snorkel.
Tours to the 4 Islands offered by us.
4 Islands by longtail boat and speedboat
4 Islands longtail boat charter to the 4 islands
4 Islands speedboat boat charter to the 4 islands
4 Island sunset BBQ
Its easy to get confused by the tours of the 4 Islands because different tour companies have different names. Some call them 5 Islands tour, 7 Island tours, I have even heard of one called 11 Islands Tour. Basically, they are the same tour though. For simplicity, we prefer to call them all 4 Island tours. (It really would have helped if the Islands had been given a better name.)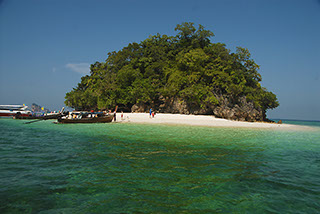 The Hong Islands
The Hong islands are just a little way up the coast from Aonang. By longtail boat it's about 30-40 minutes and by speedboat about 15-20 minutes.
There are about 15 Islands in the group, only three of the islands have beaches that the group tours visit. Most of the other Islands are just rock cliffs jutting out of the water and have no landing spots.
Hong Island - This is the largest of the Islands in the group. Hong actually means "room" in Thai. The "room" is a lagoon at the center of the Island that can be reached by boat through a narrow entrance.
Hong island Beach - The beach is usually the first stop on the tour. There is an artificial pier at one end of the beach where Park Fees are collected and the boats park. After walking a small distance you get to the Hong Beach, and a little further around there is a beautiful small perfectly formed Bay. Its protected by rocks that jut out into the sea creating a really nice sheltered spot with nice sand, clear water and no waves. This is a perfect place for snorkeling off the beach in the shallows. A great place for young children to learn how to snorkel. Always lots of small fish. As its not so big, it can get a bit crowded in the high season.
Hong Island Lagoon
A few minutes by boat around the Island is the entrance to Hong Island lagoon. Occasionally if the tide is too low, it's not possible to enter, but normally the tours will go into the lagoon so that you can see the sight. It's an amazing place with cliffs towering up on all sides. It's possible to take a swim in the lagoon on some days.
Pakbia Island - This is a smallish island with a beautiful beach on one side and a rocky beach on the other side. The rocky side is a great place with incredibly clear water to float around and snorkel. The other side has palms and trees next to the beach giving some shade just to lie back and enjoy, The beach itself is shallow and really nice soft sand, perfect for bathing.
Lading Island (also known as Paradise Island) - This is a small beach with a path that leads up into the island a bit. You can just imagine it would have been a perfect sheltered and almost hidden place for pirates to tie up and count their treasure.
Daeng island - Daeng Is a rock Island with some good reefs around for snorkeling off the boat. The boat anchors while you take a look. If the water is too rough to get in and out of the boat safely, they will not stop here.
Tours to the Hong Islands offered by us.
Hong Islands by Speedboat or longtail boat
Longtail Charter to the Hong Islands
Longtail - Boats are normally 40 seat longtail boats..
Tour Stops - Hong Island, Hong Island Lagoon, Daeng Island, Lading Island
Speed Boat - Boats are anything from 25 seats up to 50 seat.
Tour Stops - Hong Island, Hong Island Lagoon, Pakbia Island, Lading Island
Kayaking
There is also a kayaking option with the longtail boat trip. If taking a private charter, then kayaks are available for rental at Hong Island on most days.
Photo Gallery (click to see more)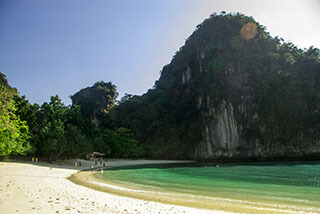 Other Information about the Hong Islands and the 4 Islands.
National Park Fees
The Islands themselves are separate National Parks. You must pay the fee to land on any of the Islands. If visiting both sets of Islands on one day, you will have to pay both National Park Fees.
National Park fees must be paid in cash on the day of the trip. The money is paid directly to the Park Rangers. Group tours, the guides will collect the money in the morning at the beginning of the trip. Private Charters you will pay the fee to the Ranger yourself and will receive a receipt. Please keep the receipt in case you need to show it at any time during your time in the Park.
Please remember to take all rubbish away with you. It is a difficult job to keep the Islands clean and the marine life healthy, so every bit of litter has to be picked up and taken to the mainland.
Please do not feed the fish.
Conclusion
The truth is that both the Hong Islands and the 4 islands are beautiful and it's impossible to say one is nicer than the other. Each has its highlights like the lagoon at Hong or the Taley Whaek at the 4 islands.
Really though, just being at either group of Islands is a beautiful experience. The water is clear and the beaches are world class. On one day, the color of the water at Poda just outshines the brightest Emerald and on others, the light of the rock faces of Hong Island will blow you away. But on any trip to any of the Islands, you will have moments of sheer beauty. They really are like jewels, multifaceted so the light sparkles off them in a million different ways.
It's difficult to beat the 4 Islands trip on value, and the shorter distance to the Islands can be an advantage if you have young kids or if it's a rainy day. Then again though, the boat journey to Hong on a nice day is a real pleasure, so even here, there is no clear winner. If you have time, my advice would be to visit both sets of Islands and see for yourself, you certainly won't regret it.
All the photos on this page are our own pictures taken at the actual locations in the last year or so. No effects have been added.
More Information
Departure Point - Nopperathara Pier
The general departure point for Group trips to the Islands is Nopperathara Pier. This pier is used for all boat trips out of Aonang so it does get very busy. There will be bus loads of people going in all directions, minivans, trucks and cars dropping off and picking up and even fishermen just getting back from a nights squid fishing. There is a large parking area with a few shops selling snacks and tourist rubber rings and beach toys and soem restaurants (One of which is Krua Thara which is one of Aonang's best seafood restaurants). Then there is a block of toilets next to a waiting area. There is a security hut next to the waiting area with a barrier to stop traffic entering the port (its normally raised though). When you first arrive here, the guide will take you to a spot to wait while they get the group together, take any balance of payment and will also take payment for the National Park Fees (they have to pay this to the Rangers when arriving at the Islands). Once all the formalities are done. They will lead you across to the beach where the boats are lined up. On every day there are dozens of boats of all types and sizes, speedboats, longtails, all sorts. Then, its onto the boat and off you go.
Speedboats
Speedboats can get very bumpy when the sea is a bit rough. The least bumpy places are near the back of the boat. If you have a back problem or a young child, just ask the guide if you can sit further back.The backs of the boats are covered but at the front of the boat is an open area with some seating area, this gets bumpy and hot (so use some sun cream), but you get the best views and the wind in your face, and the bumps can be fun! Operators will not accept bookings from pregnant ladies or with young infant children. Each company has boats of all different sizes and will choose the boat that best matches the number of customers they have, sometimes as small as a 2 engine 25 seat and sometimes as big as 4 engine 80 seat boats on exceptionally busy days). Most days in high it will be a 40 seat boat. In high season, you can expect the boats to be near to capacity. They never have more than the amount they are licensed to carry (this is checked by Park Rangers when they arrive.) Its bench seating mostly, so if there are a lot of ... larger customers, then it can feel a bit cramped, but its usually fine.
Longtail Boats
Longtails are a less bumpy, slower and more sedate ride (once you get used to the engine sound). On longtails you do get a better view while travelling than on the speedboats and you feel more outdoors and immersed than in speedboats. They are quite a bit slower though. For the 4 Islands trips, its only a few minutes extra. Group longtails are mostly 40 seat boats. Each company has boats of all different sizes and will choose the boat that best matches the number of customers they have.
Private Longtails- For me, this will always be the best way to travel. This feels like real Island hopping should do. You have a boat to yourself and can move around, lean over the side and trail your hand in the water. Most of the boats are able to take up to about 12 people. Most of the boats have 4 benches under a sun cover, then an open area at the front. The driver stands at the back controlling the long shaft and propellor (hence the longtail name) On a private trip, you pull up onto the beach and can be in the water in seconds, and when you decide to leave, you just climb onto the boat and off you go. If you have a group of 6 or so, then the price is not so much more expensive.