Top Ten Things to do in Krabi
This is a list of our favorite things to do in Krabi and Aonang. Many of these are the free simple things that anyone can do with no advance booking or cost. Actually, we have 13, but the Top 13 doesn't sound quite as good:)
1. Island Hopping and snorkelling - Maya Bay, Poda Island, Hong Island Lagoon - the stuff of dreams
2. Rent a Bike and Get Lost! - Discover Krabi for youself.
3. Visit a Temple - Tiger Cave Temple plus many more
4. Krabi Markets - Krabi Walking Street and day markets
5. Thara Park - A view on real Thai life.
6. Go Hiking - Hang Nak Nature Trail, Phanom Bencha Park - Awesome views, waterfalls and jungle walks
7. Kayak - Caves and Unspoilt nature in the mangroves - Thalane Bay, Bor Thor
8. Eat - Thai food
9. Elephant Trek - Meet the Krabi Natives
10. Adrenalin - White Water Rafting, ATV, Rock Climbing - thrills and excitement
11. Massage - Melt away all your troubles
12. Scuba Diving - Krabi has some of the finest dive sites in the world
13. Relax! - No More, No Less
Just click the Read Full article link below for more details on these and lots more.
All these things to do can be done on any day of the year. Some can even be more enjoyable in the rainy season you just have to be prepared and flexible.
At Krabitrek we try to inspect all the tours and attractions regularly to ensure that our descriptions are up to date and accurate. We use reliable operators and listen to any feedback and just try to offer the sort of service we would want if we were visiting.

1. Island Hopping and snorkelling.
The 4 Islands (AKA Poda Islands), Hong Islands and the Phi Phi Islands all lie within Krabi Province and are possible for day trips from Krabi Town and the Ao Nang area. The 4 Islands are the closest, Hong Island a bit further up the coast and the Phi Phi Islands about 1 hour by speedboat. The 4 Islands and the Hong Islands are small uninhabited Islands, Phi Phi is a group of small and slightly larger Islands with the main Island of Phi Phi Don having lots of resorts and hotels and being a very popular destination in its own right.
The first thing most people think of when they hear the name Krabi is the coastline. Krabi's amazing Andaman coastline is really unlike anything you will see anywhere else and is almost completely unspoilt by industry or tourism. There are dozens of Islands and miles and miles of the most amazing beaches that, even now that Krabi has become a major tourist destination, are largely untouched.
The mainland beaches are great but for the real crystal clear water, you need to get out to the Islands.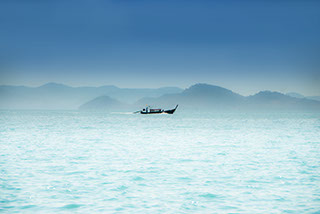 For most, Koh Tup, Koh Gai, Koh Mor and Koh Poda, which together, make up the Island part of the famous 4 Island tour are the easiest, quickest and most economical way to get a true taste of what is on offer. They are beautiful but also very popular and in high season, can become a little crowded particularly on Thai public holiday weekends. The water is very clear on a calm day and there are usually lots of small fish even in the shallows.
Then there is Koh Hong, famous for its hidden lagoon and amazing beaches. Near to Koh Hong are Koh Lading, Koh Pakbia and Koh Daeng. The water is just as clear at the Hong islands and on some days the snorkelling is even better. As part of Hong Island beach is sheltered, the snorkelling can be good even if the water is a bit rough or on cloudy and rainy days.
Then, there is the Phi Phi Island group.
Phi Phi is the largest of the Island tourist destinations. In the last two decades its gone from being a remote group of tropical Islands to being one of the top destinations in Asia. There are now dozens of large multi-national hotels and resorts and daily visits from Phuket, Koh Lanta as well as Krabi all wanting to get a glimpse of the sights that astounded the world when the film "The Beach" came out. Bamboo Island is nearby and on the Phi Phi Island by speedboat itinerary and this Island is ringed by spectacular white sand beaches and clear turquoise water, is always a big favorite.As a result of the popularity there are times when the famous Maya Bay is almost standing room only. Although some complain, this popularity is inevitable and despite this, it's still well worth seeing.
I have read in various reviews about Krabi that the sea is not as clear on the mainland as it was 10 or 15 years ago, but the truth is, the water clarity on the mainland beaches is entirely dependent on the weather and tide conditions. Being on the mainland, when there are waves, it does disturb the sea floor. I go to most of the local mainland beaches on most weeks and on a few days of the year when the sea is perfectly calm, the water is just as sparkling and visibility is great. It's just a matter of luck. For almost guaranteed crystal clear water, you just have to visit the Islands, on any day where there are no big waves, the water is as clear as it has ever been.
We just took a trip ourselves to check out the Phi Phi Islands. We took the speedboat day trip with our kids. The sky was a bit hazy but we had a great day. The beach at Maya Bay was quite crowded even though its low season, but its still worth a short stop just for the experience of being there. The highlight was the snorkeling, really crystal clear water and lots and lots of fish. There are some new pictures in our photo gallery, but here is one that shows just how many fish you'll see at the Phi Phi Islands. These pics were taken at Nui Bay on Phi Phi Don Island. While we don't gurantee that you will see this many fish as it does depend on the conditions on the day, each time I have been to any of the Islands, I have seen a lot of fish!
The coral reefs around Krabi have suffered considerably from the latest El Niino event. Coral bleaching is caused by the increase in water temperature that occurs naturally during these events. Reefs thoughout the world have been affected and it does give the appearance of the sea bed looking rather dead. This is far from the case though, most of the coral is still very much alive and is just waiting for the temperatures to return to normal. After the last severe El Nino event in 2010 it took a couple of years for much of it to start looking colorful again so, hopefully, the sea floor in the Andaman Sea will recover as quickly this time.
A factor we do have control over though is the damage that is caused by human interraction, its really important not to touch the coral, step on or break bits off, even if it appears lifeless, please be careful to avoid stepping on it or banging against it. It is actually a criminal offence to take any coral out of the sea and any coral found in luggage will be confiscated and you could even be fined.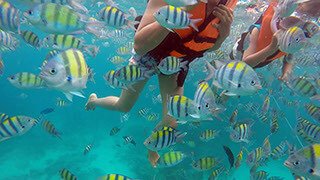 All of the tours we offer have a pickup service from all Aonang, Krabi and surrounding area hotels. Some of the tours do charge a small surcharge for pickup from hotels outside the main Aonang Hotel area.
Another option is to charter your own longtail or speedboat for the day, if you have a group of 4 or more people, then a longtail can be economical and gives you more freedom to set your itinerary.
2. Rent a Bike and Get Lost!
No, seriously, I really do mean it. Getting lost in Krabi can be the most amazing experience, even after more than a decade here, I still find views that make my jaw drop.
Hire a jeep, motorbike or bicycle and take some small roads, get off the beaten track and just cruise, or jump in a songthew and see where you end up. With the limestone Karstes sticking vertically out of the ground, there are views and vistas just waiting to be discovered around every corner.
For safety, please do remember to wear a helmet, take it at a slow speed, and just be sensible. (Helmets are a legal requirement in Thailand, they don't enforce it very often in the Aonang area but if you go to Krabi Town, then there are periodic Police checks and if you are not wearing a helmet, they will fine you (about 400thb). Accidents for happen, so, just in case, its best to make sure your travel insurance covers you for riding a motorbike, some insurance policies limit the engine size to 125cc.
But riding around Krabi is a great experience, if you follow the coast road along to Klong Muang and TubKaek beaches, then you can stop anywhere and walk down to the beach and find yourself on a picture postcard beach with not a single footprint, even in high season.
Inland is even better. There are thousands of small dirt roads disappearing into the rubber and palm plantations just begging to be explored. In many cases, they will just dwindle to nothing, but really, bumping along under a canopy of rubber trees, not knowing what to expect is just liberating. If you do meet anyone, probably a rubber cutter or group of palm nut cutters, they are bound to be incredibly friendly. And don't worry, you can't really get dangerously lost, mobile telephone signal covers the whole area and all of the tarmac roads end up back at the main roads in the end. If you have a phone equipped with GPS, then use our map which shows your position in relation to all the attractions. Go slow though, smaller roads do have potholes, sandy bits and even the odd elephant crossing, but so many photo opportunities.
If on a bike, you don't need a powerful dirt bike, the humble 125cc moped is the perfect transport, they are easy to ride, just twist-and-go, economical (a full tank of fuel for 100thb or so). Everyone rides them, even the rubber cutters working up in the most remote and difficult to get to places use them. If you get a puncture, you can always find a repair place within a short distance and breakdowns are almost unheard of. If you ever did break down, run out of petrol or get a puncture, people are very helpful (they've all been in your situation themselves) just explain the problem (easy with a bit of sign language) and they'll almost always offer to help.
If you are with your partner on a honeymoon, then I cannot think of anything much more romantic than riding together through empty roads in this amazing scenery discovering new places. On a hot afternoon there really is nothing better than feeling the cooling wind through your hair.
Bicycles are available for rent in several places in and around the AoNang area. There are lots of great roads and tracks for bike riding and cycling has become a really popular activity for Thais and expats, you can find routes easily and the bike rent shops will be able to show you places. For road cycling, Krabi is great, its like being in the mountains but without the hills! Early moring is really the best time and you will always see groups of Thai cyclists on the roads between about 6:am to 7:30am.
Whether you choose to cycle or motorbike, its best to take a waterproof along, there are some very heavy short lasting downpours and if you get caught, you can get very wet, very quick.
Car, jeep and minivan rental is also relatively cheap with a price for a small self-drive saloon car ranging up from about 900thb per day. Another option is to rent a car and driver for the day, prices depend more on the destinations than the amount of time so if you have an idea of the places you would like to go, we can give you a price.
Songthaew go along most routes in and around Aonang and Krabi, they are simple pickup trucks with covered bench seating in the back. If you see one, you can wave to it and it will stop, you can then check on which route they are going and the price. Many of the tour companies also use Songthew for short distance transport, but they usually have their logos on the side and are a bit less flashy than the public ones. They move along quite slowly, so allow plenty of time, but the open sides of the trucks give you a great view of Krabi as you pass and the wind in your hair keeps you cool.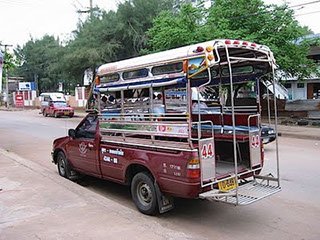 Phanom Bencha National Park is a really perfect place to visit on a rented motorbike, the roads are local and quiet (although watch out for the holes!) if you need directions just drop us an email and we'll be happy to help.
There are also many places that we haven't even explored yet. You will see signposts, in English, in various places to caves that are not on the tourist trail. Just follow them and see what you find (and please let us know if you find anything good!). This is the real beauty of Krabi, that there is so much more than what most people see.
3. Visit a Temple

Wat Tham Sua also known as Tiger Cave Temple is the most famous Temple in Krabi. The atmosphere, not to mention the view from the top, is just out of this world. Allow plenty of time though, for a start there are the 1237 steps to reach the mountain top, so you need to let your heart rate drop to double figures to get the best of it and really appreciate the place. But it's not just about the views or marveling at how they got the building materials up there, or the tribe of monkeys, really it is a place to just stop and NOT think. Just find a quiet place to sit and soak it in. I'm not that much of a spiritual person, but even I can't help but feeling mentally reenergized after a couple of hours just sitting in this this magical place.
The steps up to the temple are uneven and some sections are quite hard work but the handrail is there the full way and is solid. Even if you are short on time (or breath :) its still well worth the effort as the views even just a fraction of the way up are fantastic.
At ground level there is also plenty to see, with some great caves that go deep into the mountain and pathways that go through some real original jungle sections with some truly monumental trees. So, if you don't have time or are not feeling up to the climb to the top, Tiger Cave Temple is still a great palce to visit. If you are on a group tour please keep an eye on the time, the guides are quite strict about leaving on time.
There are also dozens of monkeys all around the temple, they can get a bit cheeky and light fingered, so make sure you keep all food out of sight. They even try and open zips, so make sure your valuables (and your drinking water) is secure.
But there are literally dozens of other temples that are worth a visit from the spectacular new white Temple in the center of Krabi Town right down to the smallest local temple that is home to just a few dedicated monks.
The Temples here are generally free to roam about at your will. As long as you are respectful in the way you dress and behave (keep the volume down and keep legs and shoulders covered), then everyone is welcome. So, if you see a temple anywhere, just stop, wander around and get a feeling for the culture. No temples will charge an entrance fee but some of the smaller temples are on very small budgets so, any donations, no matter how small are welcomed. Tiger Cave Temple do require ladies to cover legs, so bring a sarong, if you forget they will rent one to you for 20thb. (When walking up the steps, shorts are fine, but please cover up again at the Temple area at the top.
4. Krabi Markets
Krabi Walking Street / Night Market
Krabi Walking Street is perhaps the best cultural and foodie experience in Krabi. Krabi Walking Street, is a night market with lots of clothes, handicrafts and souvenirs, but even if you're not into shopping its worth a visit just for the huge variety of food. There is everything from spicy salads to bamboo cocktails, chocolate pancakes, sushi, somtam, kebabs,fried fish, oysters, as well as the standard BBQ chicken and all at very reasonable prices. If you feel like being adventurous, there is even a stall offering frog and insect snacks! Just wander around and let your nose guide you.Then while you sit down to eat, enjoy a wide selection of on stage entertainment. The entertainment might be, pop music, break dancing toddlers to 70 year old kareoke singers (quite likely both) plus occasional puppet shows and a spot of Thai dancing. For the kids there is usually a bouncy castle and a couple of places where they can do some painting or batique.The atmosphere is really nice and there are several bars and restaurants around to just sit and watch the world go by. The Krabi Walking street is open on Friday, saturday and sunday nights from about 6:00pm to about 10:00pm. If you want a seat in view of the stage, you might have to wait a bit.
Krabi Morning Market
At the other end of the day in the early morning, If you do have your own transport in Krabi, then set your alarm for 5.00 am (or earlier if you can, yes, it is worth it!) You'll find Krabi Market right off the main road in the centre of Krabi town. The market sells mainly seafood, fruit and vegetables but is such a vibrant hive of activity that it is well worth the visit. You'll get to see a variety of fish, seafood and vegetables nothing like you have seen before. Everyone is incredibly friendly and even if you don't speak a word of thai, you'll end up with a few extra friends by the time you leave. The best time of day for this is just as the sun comes up. There is also an area in the centre of the market with take away food and snacks and some benches to sit. Try some of the sticky rice sweets. You'll see them wrapped up into small banana-leaf parcels. They are cheap and delicious, my favorite is khnom sai sai, this is sticky rice with a coconut filling. (khnom pronounced 'kar nom' by the way, is the thai word for any sort of snack). The market is open from the early hours of the morning until about 10:30am, best time is sunrise when its a real hive of activity. For photographers, the sun comes in from the side of the market creating incredible lighting and shadows for some epic pictures of real Thailand life.
If you want to give yourself an extra incentive, just ask your resort restaurant and many will be happy to cook a fish for you for a small charge, so you can buy your own at the market and then enjoy it for your evening meal. (Please check with your hotel first that they will be able to do this for you.)
Krabi Second Hand clothes Market
If you need to pick up a few bits of cheap clothing for the next stage of your travels then perhaps the second hand clothes market might be good. The market is saturday afternoons only and the location is in Krabi Town near the Eagle traffic lights. There are usually dozens of stalls offering a complete range of mostly second hand clothes, jackets, bags, jeans, t-shirts, shoes and trainers. Price for a shirt can be 20thb - 100thb, trainers 100thb - 250thb. Lots of good branded stuff mixed in with a lots of less desisreable items...
Aonang Food Markets
There are also normal food markets every day in Aonang, they do move about a bit though and in different places each day of the week. Just ask your hotel and they will tell you, or send us an email and we will be happy to help. Markets in Aonang are mostly afternoon markets open from about midday to about 7:00pm. The markets have a good selection of fruit and vegetables, meat and fish and on most days you can also pick up some delicious curry pastes.
5. Thara Park

On most weekday evenings and a Sunday afternoon, this is where the Thai people go for Pai Tio. Pai Tio is a national institution, basically it means 'wandering around aimlessly for fun'. And this is exactly what you will see people doing. The park is by the river and although its nothing spectacular, its just a really pleasant place to sit on the grass, have a picnic perhaps or eat an ice-cream. If you have young kids, then there is a children's park with the normal swings, slides and climbing frames that you would find in any kids playground. It's reasonably well maintained, clean and safe. One thing that is amazing is to watch Thai kids play with each other. I have two children, we quite often go here to let them play and even though they don't know anyone, they all play together. The older kids really do seem to like looking after the younger ones, where else in the world would you see an 8 year old boy help a 3 year old girl he's never met before up a climbing frame without being bribed or threatened into it?
Please remember that anywhere with children, it's essential that you supervise them at all times.
On most days of the week when its not raining, a local roller blade retailer sets up at the center of the park and will offer some tuition on roller blading to young kids. He has blades for rent very reasonably priced with pairs to fit most ages from about 5 years old up to about 11. Its really nice to see the kids skating around together. Please note he does not have helmets or protective pads. He arrives at about 4:30pm and sets up some music. He's very good at teaching the kids the very first steps and brings along a carpet to teach them the stepping action you need before letting them loose on their own.